professional wages for early childhood & OSHC professionals.
In 2022 we launched our bonus scheme as a way to reward and say thank you to our hard working Teachers & Educators.  We extended this initiative into 2023 and we're delighted to announce that it will again continue this in 2024. This means you will receive an end of year bonus of $1 per hour for each hour you work through Randstad Education. As well as the bonus, we will also continue to pay you an extra $1 on top of the Award wage each hour, we do this as we believe in professional pay and want to reward you for the work you do to help educate the next generation.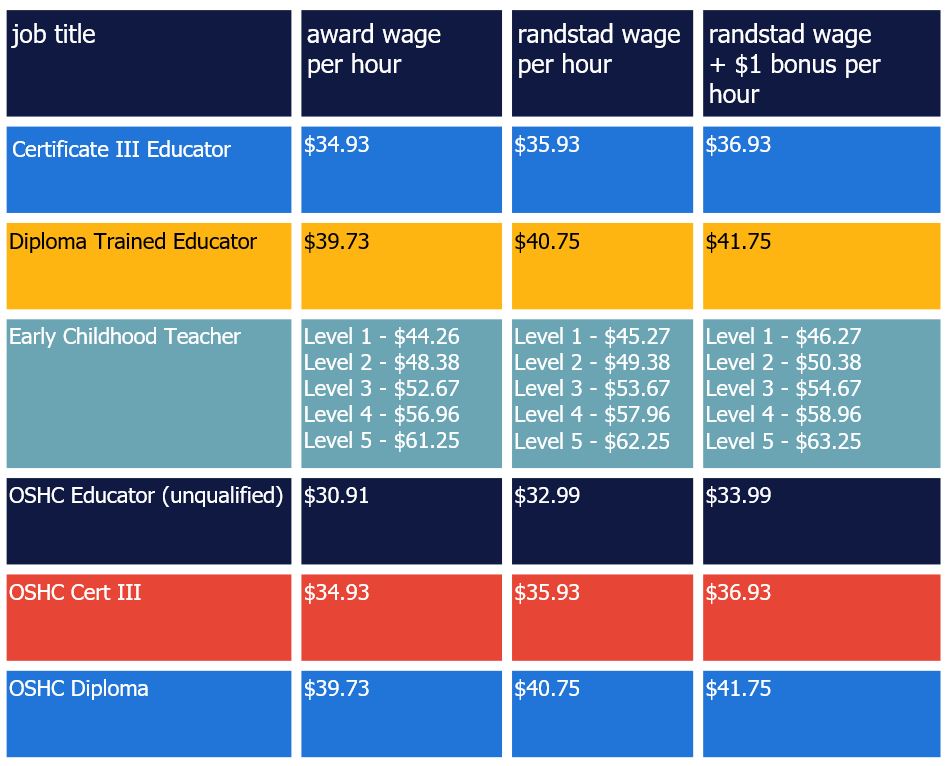 work the way you want to work.
No need for a diary, your Randstad app or private desktop portal lists where you are working. 
Add your timesheets or view your payslips on the go via our app or use a desktop. 
Roster yourself into shifts 24/7 via our state of the art online system - for the day or well into the future - or call your consultant. You decide.
Some days you can't work and that is OK. Keep your availability up to date via our app, private desktop portal or call your consultant, you decide 24/7. 
Sometimes some educational settings are not a match for your teaching values and philosophy, you can create your own preferred and not preferred places to work, just tell us. 
Moving around Australia? Transferring internally is very easy as we have offices in every capital city. 
Most importantly we are Family Friendly and understand you can't work every day, sometimes life gets in the way.
be the best you can be! 
A Randstad Education "R-worklifepartner" is on call to help you with your career with us!  Your R-worklifepartner is there to give you tips and advice throughout your career with us. 
We see and hear some outstanding work with the children our team helps to educate and that is why we have a reward and recognition for Teacher and Educator of the month. 
We will help you be the best you can be with monthly training sessions.